Professional Raccoon Removal in Salt Lake City
While they may seem outwardly harmless, allowing raccoons into your home or even onto your property is a recipe for disaster. Raccoons can spread numerous diseases and parasites when they get into homes, most notoriously rabies, in addition to other problems. Allowing them anywhere on your Salt Lake City property puts your family at risk for health problems and your home at risk for property damage.
Don't leave your home at the mercy of raccoons! When raccoons get too close for comfort, call the wildlife professionals at Pest Pro Pest Control for help.
Our Raccoon Control Process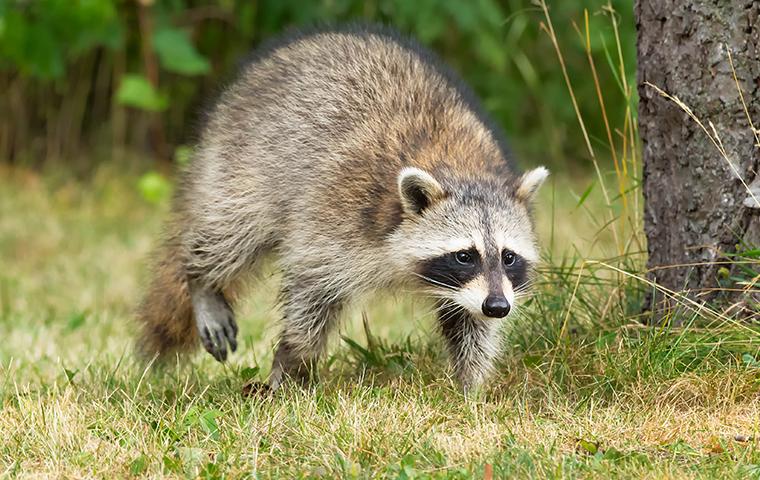 Raccoon control from Pest Pro follows a simple yet effective procedure: first, we inspect your property for any signs of raccoon activity around your home, then we remove them using a mix of tools and expertise.
Inspection
When you first contact us about raccoon control, one of our trained technicians will visit your property in order to perform a comprehensive inspection for any and all signs of raccoons on the premises. He or she will go around the entire exterior of your home looking for any potential entry points they might be using as well as conducive conditions that could attract them to your home. He or she will also identify potential harborage areas where raccoons might be nesting so that we can safeguard your home from raccoons.
Treatment
After the inspection, your technician will then begin treatment. Pest Pro raccoon treatment consists of two potential procedures: evicting and trapping.
Evicting
During raccoon eviction, your technician will first remove the mother from the premises and then carefully remove any baby raccoons. Your technician will then perform sanitary procedures, including feces removal, before fogging the area. He or she will then place chimney caps where necessary, for an additional charge.
Trapping
For a raccoon trapping procedure, your technician will first determine how and where raccoons are getting inside your home. Then, he or she will strategically place live traps in these areas, which will be checked daily by either you or our technician for trapped raccoons or signs of activity. Your initial service call includes 14 days' worth of trapping.
We offer raccoon trapping as a one-time service or as a two-week recurring service based on your individual needs. Raccoons are most actively seen from March-August, although we offer our residential pest control and commercial pest management services year-round.
Don't Let Raccoons Take Over Your Home
The longer raccoons are allowed to turn your home into theirs, the worse the problem will get - and they will never leave on their own.
Don't leave your Salt Lake City area home at the mercy of raccoons! Contact the raccoon removal specialists at Pest Pro today and make your raccoon problem disappear.
How Can We Help You?
Complete the form below to schedule your no obligation consultation.