Are Carpet Beetles Ruining Your Home?
Carpet beetles are pesky little bugs that feed off of anything that used to be alive. This includes wool, certain types of carpet, animal hair, clothes, etc. They are generally brought into a home on flowers or other plants. While carpet beetles are very small and tend to live in dark places where they can be difficult to spot, there are signs to look for. They regularly shed their skins and also leave behind their feces which are small pellets the size of a grain of salt. The larvae tend to feed off of many types of cloth. You may find clothes or other fabrics thinned out or with small holes in them.
Our Carpet Beetle Control Options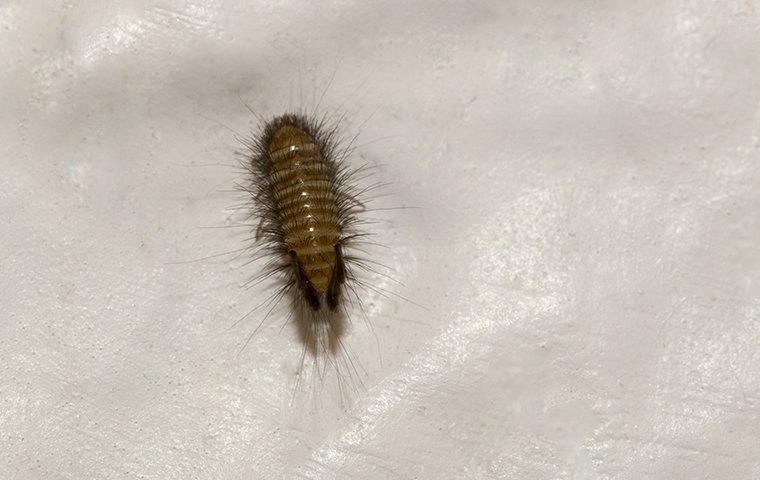 Three Treatments
The first option is a three series treatment that will kill all the live ones and break their life cycle by killing all the babies as they hatch. This is option is guaranteed to eradicate the population that is there now. We have a 2-month guarantee following the last treatment to make sure we got rid of every last one.
Maintenance Treatments
When dealing with larger, more established infestations, we recommend our carpet beetle maintenance plan. This plan is especially recommended if you are seeing carpet beetles consistently throughout your home. Maintenance plans are always guaranteed as long as you are actively doing the quarterly carpet beetle treatments.
We treat your whole house and then come in a month and treat it again for free. This back-to-back treatment kills all the live insects and then makes sure there is enough insecticide to kill any babies that may hatch. This breaks the life cycle of the carpet beetle population. After that, we treat quarterly to make a barrier so no more carpet beetles can come back.
With doing this yearly maintenance, we will come back anytime you see carpet beetles in between appointments for free.
Keep Carpet Beetles Out Of Your Salt Lake City Home
Spraying for carpet beetles can be very effective. A carpet beetle treatment includes spraying all the baseboards inside the home, under furniture, behind kitchen appliances and inside closets. We are also happy to spot treat any problem areas that you may have. We also treat your commercial property.
How Can We Help You?
Complete the form below to schedule your no obligation consultation.