Are Nuisance Birds Making It Difficult To Step Outside?
When nuisance birds choose your Salt Lake City house as their home base, they cause all sorts of problems. Whether you find yourself dealing with pigeons, woodpeckers, or starlings, you're likely to find contaminated droppings everywhere you look. Woodpeckers will drill holes in wooden structures as they search for food. Pigeons and starlings not only damage your home with their droppings but can also cause extensive damage if they choose to nest in your eaves or attic.
One or two birds can be nice to look at outdoors, but having an infestation of these flying pests flocking near your home or business can be a real problem. An overabundance of pest birds creates slip hazards with their droppings, but the most severe threat birds pose is the transmission of deadly diseases such as cryptococcosis, encephalitis, histoplasmosis, salmonella, and toxoplasmosis. Merely coming into contact with bird feces or urine is enough to cause considerable health problems, which is why reaching out to a local pest professional is your safest bet for handling a pest bird problem.
Locally owned and operated, Pest Pro Pest Control has kept Utah pest-free since 2010. Because we are a local, family-owned and operated business, we understand the unique pest pressures homeowners in Salt Lake City and our surrounding service areas face. We take the safety of you and your family seriously. At Pest Pro Pest Control, we make every effort to make sure each of our customers is fully satisfied with our services. Whatever bird you find yourself dodging each time you enter or exit your home, Pest Pro Pest Control can help remove them from your Salt Lake City or surrounding area home or commercial property.
Our Bird Control Process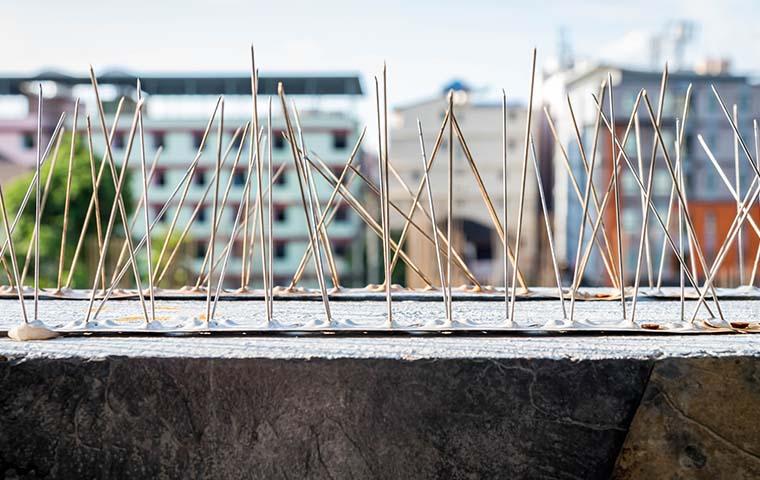 Pest Pro Pest Control utilizes several humane service options to remove nuisance birds from your property.
Inspection
Before we decide which methods will work best for your particular situation, we'll perform an inspection to determine what type of bird you're dealing with and where they're causing problems.
Pest Bird Treatment
Upon completion of the inspection, we'll develop our treatment plan. We use several different devices to remove and deter birds from choosing your home as their home.
These include the following:
Deflectors

Bird line
Bird repellent

Spikes

Electrical strips

Guards

Optical gels
One-way doors to let birds out but restrict them from re-entry

Mesh
This exclusion program also effectively removes and restricts bats from your home. For bat problems, we seal entry points with silicone caulk or foam filler, primarily targeting the highest points of your house. We also offer clean-up and sanitization of bat waste, similar to our bird sanitization offerings. Call today to learn more!
Enjoy Your Salt Lake City Property Again
Pest birds bring many significant dangers when allowed to remain in or near your building. When bird is the word for your Salt Lake City property, reach out to Pest Pro Pest Control. Our team of local experts takes the satisfaction of our customers very seriously and won't stop working until you are fully satisfied with the service we provide. With our pest-free guarantee, you can rest easy knowing your pest problems will be a thing of the past!
Protecting your family and home doesn't have to be complicated or stressful. For residential pest control and commercial pest control services that are efficient, effective, and guaranteed to keep your home or business free from pest pressure, reach out to Pest Pro Pest Control. We offer several proven methods to remove problem birds safely and effectively. We have been serving Utah homes and businesses for the past ten years, and we are well-equipped to handle any bird problems.
How Can We Help You?
Complete the form below to schedule your no obligation consultation.