Are Bed Bugs Making It Hard To Sleep At Night?
For many people, just hearing the words "bed bugs" is enough to start feeling a little itchy. Bed bugs infest homes and businesses all over the United States, and they don't care how clean or dirty your space is; they'll happily move in anywhere. If you suspect that bed bugs are in your Salt Lake area home, Pest Pro Pest Control has the knowledge and experience to eliminate your bed bug problem.
Our Bed Bug Control Process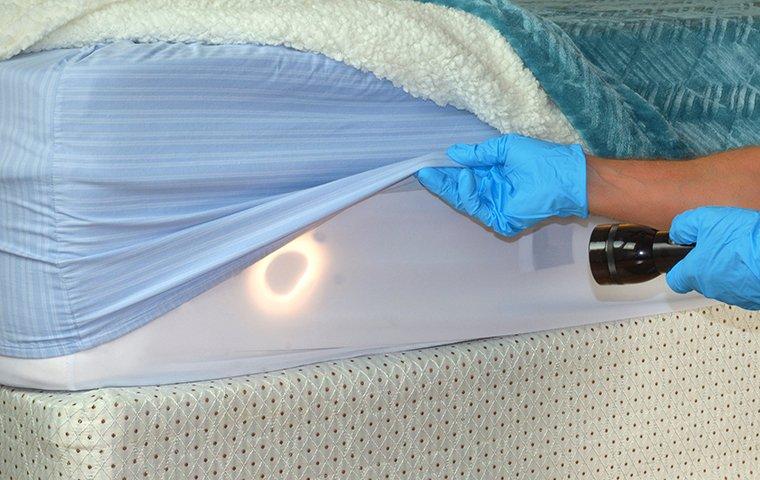 Bed Bug Inspection
Identifying your bed bug infestation is the first step in treating it. Bed bugs look similar to several other types of insects and can sometimes be misidentified, so it's important to get a positive ID before proceeding with treatment.
One of our experienced technicians will visit your Salt Lake City home and inspect the areas where bed bugs most often hide to look for any signs of bed bugs and bed bug activity. If they find any, we'll move onto the treatment phase.
Bed Bug Treatment
Pest Pro Pest Control uses a liquid treatment to take care of bed bug infestations. Although we will perform a single room treatment, we highly recommend whole house treatments to ensure that your infestation doesn't return.
How To Prepare For A Bed Bug Treatment
Before treatment, we'll supply you with a bed bug control prep sheet that includes the following tasks:
All furniture and items should be pulled at least 2 feet away from walls and baseboards

Empty all desks, bookcases, drawers, etc. of their contents and store them in plastic bags in center of room

Clear all items out from underneath beds, store in boxes/plastic bags in center of room

Lift mattresses and box springs out of the bed frame and stand them up against a wall

Open any convertible beds so that they are available for treatment

Vacuum all floors, carpets, and rugs

Vacuum baseboards, bed frames, mattresses, and other furniture

Rid home of excess clutter
During the treatment, we'll apply a product to the seams of mattresses, box springs, furniture, closets, dressers, light fixtures, and other areas where bed bugs may hide.
*We reserve the right to NOT treat any property that has excess clutter, or does not follow the guidelines listed above. The above steps are necessary for an in-depth and successful treatment. Once these guidelines are followed, treatment can begin.*
Follow-Up Service
Two weeks following your initial treatment, we'll return to perform a follow-up treatment. Upon completion of this treatment, a six-week guarantee goes into effect. If you should find bed bugs or signs of bed bug activity within this timeframe, we will return to your home to re-treat at no additional charge.
Keep Bed Bugs Out Of Your Salt Lake City Home
Bed bugs cause itchy bites, sleepless nights, and undue stress. If you have reason to suspect a bed bug infestation is growing in your Salt Lake City home, you must take immediate action to stop it. Pest Pro Pest Control has ten years of experience eliminating bed bug infestations, among many other residential and commercial pest control solutions. Contact us to schedule your bed bug inspection.
How Can We Help You?
Complete the form below to schedule your no obligation consultation.